Roland RD 2000 Stage Piano Package : Roland Flagship Stage Piano Package Save ££££s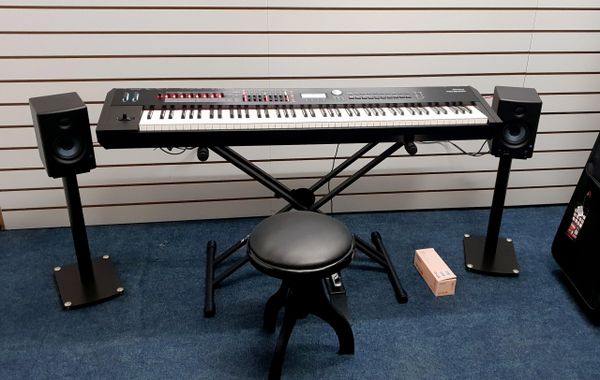 Roland RD 2000 Stage Piano Package : Roland Flagship Stage Piano Package Save ££££s
ROLAND RD 2000 Digital Piano Stage Piano
Flagship Stage Piano Package - SAVE £££££s 
The Roland RD-2000 represents the new Flagship Stage Piano of the RD Series. A powerful, all encompassing piano with the most articulate, expressive Grand Piano sound to date.
Featuring two independent sound engines, a lush hammer action keybed and a comprehensive control interface - the ROLAND RD-2000 delivers unmatched performance for live stage, studio and tour use.
PRICED AT £1899.99 ... 
For the complete package -
Inc Vat & Warranty : 
Including -
Roland RD 2000 Digital Stage Piano
+ DP 10 Damper Pedal 
Quik lok QL 646 Double Brace Adjustable Height Stand
Pair of Presonus Eris 4.5 Powered Studio Monitors + Matching Floor Stands
Connection Leads ...
Gator GK -88 SLXL Padded / Rigid Lightweight Case / Including Wheels For Extra Long 88 Note Keyboards ...
Adjustable Circular / Padded Matching Seat ... 
This is product is in as new pristine condition - throughout - having had little or very light use only -  less than 1 year old ... a complete package ... Top Brand - Top Quality -  cost almost 3k when purchased -
Offered at Only £1899.99 ... Inc Vat .. 
Warranty - Free UK Delivery ..... 
This is excellent .... Superb ... 
Call 01375 892885 - or email sales@redhouse-computers.co.uk