Windows Laptop Diagnostic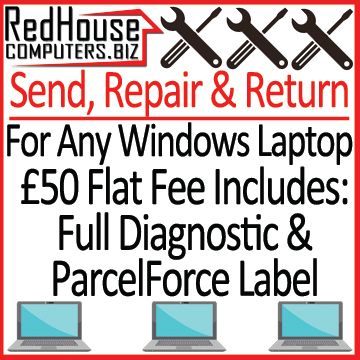 Windows Laptop Diagnostic
Redhouse Send, Repair & Return (SRR) Service
Have you got a problem with you Windows laptop but don't know what the issue is? We now offer our SRR Service for any windows laptop diagnostic at only £50.
What does this include?
The £50 charge is a flat rate that covers:
·

        

Parcelforce (Drop Off To Royal Mail Office) Tracked Label for UK mainland
·

        

Engineer Evaluation Time / Report
Once the engineer has evaluated the laptop he will contact you via phone, text or email to advise into costings for the repair and what is a required i.e. hardware part(s) etc.
If you then wish to proceed with the repair, payment will be needed and to be paid over the phone. If you do not wish to go ahead with the repair the item will be re-boxed and returned to you.
How long does it take?
Including shipping times we aim to have the item back to you within 2 weeks from us receiving the item; this might be quicker dependant on the repair required. The engineer will inform you once the item has left us after repair has been completed and paid. All shipping costs are for UK mainland if you are outside of this please call 01375 892885 for a quote.
What about my data?
We highly recommend backing your data up to an external media before sending the item to us. We comply with all GDPR Regulations. However, problems can occur through no fault of our own on various components at any time. While we always endeavour to save data if requested, Redhouse Computers hold no responsibility for data damage / loss.
What do I need?
For you to use this service you will need a printer for the shipping label and the service sheet. Also a safe and secure box for packing the item for shipping to us would be required. Please note expenses paid for shipping boxes will not be refunded to the customer.