Sven Christiansen X Range-White Frames-Zebrano Tops Complete Floor Of Furniture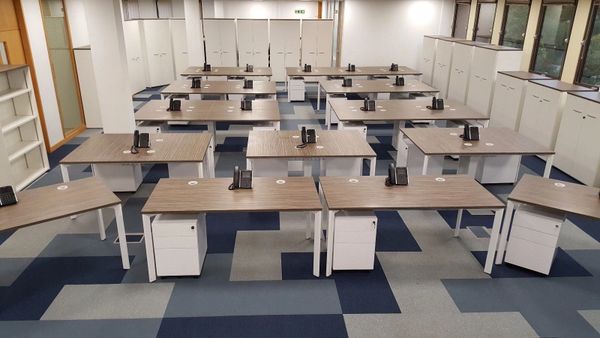 Sven Christiansen X Range-White Frames-Zebrano Tops Complete Floor Of Furniture
Sven Christiansen 
X Range Furniture
Recently Uplifted From a 5000 Sq ft Office
Complete Suite - Entire Floor Of Matching Furniture
Finished In White- With White Metal Frames
+ Zebrano Tops
We have a full schedule of this excellent
range of furniture-  over 100 pieces included
many photographs available -
This is a recent installation 
approx 2015 - 2016
new cost on this furniture is approx
£30,000
offered at only £10,750
 inc Vat or offer -
Desking For 36 Operatives
In Various Set-ups / Double Sided 
6 desk set
4 desk sets
2 desk sets
Single desk sets
Wire Management / With Power Towers
32 x QMFP3 
X Range Steel Mobile
Pedestals 3 Drawer In White 
Price example -
These retail at £149.99 plus Vat
£180.00 per Mobile Ped - 
offered in the deal at approx £72 each ...
Superb ...
Range of Matching 2 Door Cupboards
White / Zebrano
In various Sizes 
For Storage / Filing 
2.0 Heights / 1600 Heights / 1200 Heights / 720 Heights
X Range Book Cases 
X Range Eclipse Conference Tables
X Range Modular Flip Top Tables
White with Macassar Tops
This Furniture Is Just Excellent
In Fab Condition - Bargain For Someone
Save ££££s from New Price -
All In Stock  
Ready For Early Delivery - Installation
Note ..
Delivery / Installation  Is Available 
By Our Own Delivery Team 
SUBJECT TO POSTCODE
PLEASE CALL US
OR 
Message with your POSTCODE
Please See Our Contact Us Page 
Before Purchasing ... 
To Confirm Delivery / Installation Set-up Costings ...  
Happy To Assist ... 
Included In Our 2017 Sale ...
 Offered at :  
£10,750.00 Inc Vat 
This does not include any-Phones - carpet tiles etc
as shown in the photographs- just the furniture    
Condition ...
This Sven Christiansen X Range Quality Furniture
 Is pre owned in really great condition - throughout - 
We invite prospective buyers to please review our photographs -
NOTE WE HAVE A COMPLETE SETS OF DETAILED
PHOTOGRAPHS WITH DIMENSIONS AND QUANTITIES
Happy to provide these- serious buyers only please ..
Please Contact us -
Excellent Opportunity- To Obtain A Superb Office Set-up
at a fraction of new cost ....   
Our store is open 6 days per week ..
We have some samples on display 
of this furniture for viewing - 
Viewing is recommended if you are
local  to us-