Buying from us couldn't be simpler
Secure Payments
We accept all major Credit and Debit Cards (excluding AMEX) via PayPal and all over our prices include VAT.

As soon as payment has gone through you will receive an email from 
'Noreply@mysimplestore.com' 
this email is safe and will contain a receipt for your transaction and an order reference number. We strongly advise that you retain this email and if you do not receive it within 24 hours of your purchase please check your junk folder or contact us directly so we can assist you. 
Why not use our Mail Order Service? 
We accept all major Credit and Debit Card (excluding AMEX) payments over the phone. Call us on 01375 892885. 

Where payment is made over the phone photo ID of the cardholder is required upon pickup from our Store or upon delivery.  
Standard & Next Day Delivery Service
We offer a standard £9.99 delivery service on all Laptops, Desktop PCs, Tablets and accessories. Our standard delivery service is 3 - 5 working days on all orders placed before 1pm. 
We offer a next day £19.99 delivery service on all orders placed before 1pm. Next day delivery is subject to order quantity and size. Please call 01375 892885 for more information on our delivery services. 
Most products are shipped using our standard and next day delivery service unless stated otherwise in the item description.  
Bulk / Pallet Delivery Service 
We offer a pallet delivery service on both bulk and large item purchases. Bulk and large items include Office Furniture, Pianos and items labelled as bulk in the description. Where listed a £50 flat rate fee for pallet delivery is chargeable on all items shipped within mainland UK*. 
We operate a courier service within the United Kingdom via our delivery partners subject to the areas shown below.
*All bulk items are listed with no delivery charge as this cost is calculated upon purchase by calling our in-store delivery team. 
Please call us on 01375 892885 for further information. 
The image below is a representation of the average cost to ship bulk items and may differ depending on the specific item.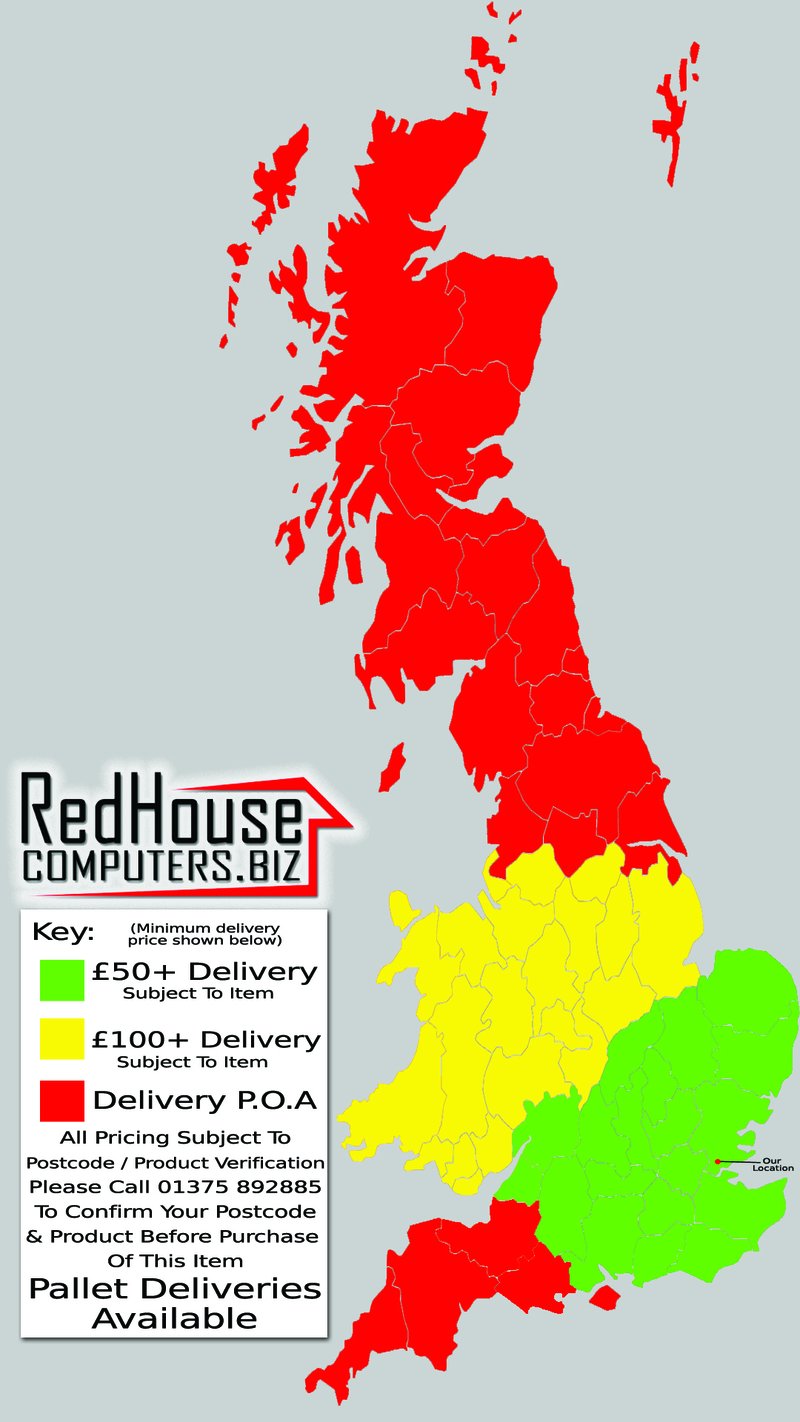 Purchased an item online or over the phone with us
It is now an unwanted item
An unwanted product can be returned for a full refund within 14 days of delivery as long as it's still in its original, unopened packaging. This returns policy for unopened goods is in addition to your statutory rights and applies to purchases made in store, online or over the phone.
Separately to the 14 day policy above, and in accordance with your rights when you purchase goods online or over the phone, unwanted items can be returned even if you have opened them for inspection as long as you let us know within 14 calendar days from the day after delivery. Once you have told us you want to return an item, you should do so without undue delay and not later than 14 days from the day on which you informed us of your decision to cancel the order. You can examine the goods as you would in a shop but to obtain a full refund you must not start using them, install them or input any data/software. The goods must be returned in 'as new' condition and in their original packaging. Product(s) that has been worn, used, or altered will not be accepted for a full refund. Buyer Pays for return shipping to our store which is Non-refundable if the item is unwanted.
Buyers may be subject to restocking fee of 20% if outside these terms and conditions
Has your item developed a fault?
It's bad enough that your product develops a fault, so we try to make our returns or repair service as painless as possible.
If the fault occurs within 30 days of purchase (or delivery or installation) we will always offer you either a repair, exchange or refund. If the fault with your product occurs within its guarantee period (normally 12 months from delivery) we will offer you a prompt repair service. In all cases we reserve the right to inspect the product and verify the fault.
We do not cover faults caused by accident, neglect, misuse or normal wear and tear.
We will compensate the return shipping to our store up to £14.99 if the item has developed a fault.