COVID-19 Store Update 12th April 2021
We are pleased to announce on the 12th April 2021, we reopened our store to the public under COVID-19 government guidelines. Signs will be present throughout the store to remind our customers of the following protocols. We have been working hard in the store to make this as safe as possible; this includes the following protocols to keep our staff and all our customers safe:
Glass Partitioning
Every contact point between us and our customers will be behind glass partitioning allowing us to speak to you and show you products safely.
Face Coverings
As per government guidance; face coverings MUST be worn in store unless exempt.
Hand Sanitiser
Hand sanitiser will be provided on entry to the store. We kindly ask all customers to use this on entry into the store.
Contactless Payments
Our card terminals are ready for contactless payments (current limit £45). Please use this facility where possible.
Track & Trace
Our QR code for our store is present around the store inc. on entry. We require all customers to please use the NHS Track & Trace App and check in using the code. It takes less than 30 seconds and is an important part of keeping safe while the UK opens slowly to prevent another wave.
Social Distancing
We have marked out throughout the store 2 mtr. distances when in the store please keep distance from other customers. We also have a seated waiting area should you wish to use this where possible if there are other customers being served and social distance is not possible.
Maximum Customers
We can only allow 6 customers into our store at any one time. For this reason we ask to please shop alone where possible. If there are 6 people in our store you will be asked to wait outside until a customer leaves the store.
Click & Collect
Having great success with the click and collect system through the UK lockdown. We have decided to continue this service to all our customers. If you would prefer this service so you don't come into the store, please call prior to collection and pay any outstanding balance on your order / service item. We will ask for ID for collection this could be: Service sheet, online email order confirmation, Photo ID (E.g. Driving License) or Sight of card used for transaction.
Local Delivery
We also still offer a locally delivery to our customers. Please call to place an order or pay balance of your service item and advise the team member you wish to use this service. Security checks will be carried out on delivery.
We cannot wait to be able to reopen our store in a safe and secure environment and are working hard to make it the best possible experience for all our customers. Should you have any questions or enquires please call us or email and we will be happy to assist.
Let's all be socially safe and stop the spread. Please continue to support local where possible.
Thank you for taking the time to read this update.
Janice, Robert & Scott
9.30am – 5.30pm, Monday to Saturday
01375 892885
sales@redhouse-computers.co.uk
Coronavirus
A family business since 1990 owned and run by husband and wife team Robert and Janice Rouse. Janice Rouse is a fully trained medical secretary and over many years has kept high standard of hygiene here at Redhouse. Always making sure staff are using hand sanitizer & correct methods when dealing with service items laptops & PCs.
With the outbreak of the Coronavirus the same procedures are in place here at Redhouse. All staff have been advised on Government guidelines. As a small company there is little close contact with our customers; if you are afraid of the big stores with many people around come to us. Always here to help and assist.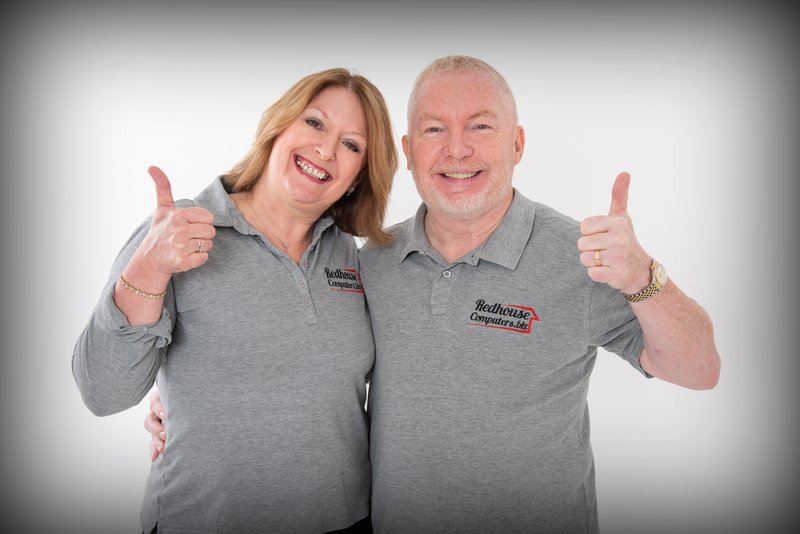 Helpful Sites
Please see useful sites in regard to COVID-19 working from home guidelines & other useful information
https://www.nhs.uk/conditions/coronavirus-covid-19/
https://www.gov.uk/government/publications/covid-19-stay-at-home-guidance/stay-at-home-guidance-for-people-with-confirmed-or-possible-coronavirus-covid-19-infection