COVID-19 UK National Lockdown (Jan 2021) Update
UPDATE: (Third UK Lockdown).
RedHouse Computers will remain open for Online / Phone sales & service
·        With the third UK lockdown (4/1/2021) Redhouse Computers has already been preparing for this eventuality. We have a handover point only for our customers so we can still take in service items booked in over the phone prior to drop-off and provide new sales purchases that have been made either online or over the phone. Hand sanitiser is provided at the collection / drop-off point area along with UK Government QR code for Track & Trace.
·        We are committed to providing a safe and healthy environment for our staff and customers. We deeply value all our customers and their health and well-being is our number one priority during this difficult time. We also make it a priority to help and support vulnerable members of the community and also support the current work from home employees.
·         Our warehouse, service department & collection point are still operating as normal within social distancing. Our premises, telephone & emails are still operating within our store hours (10am – 5pm Mon-Sat) & we are still operating online for sales as normal though our website.
·       Please note if you are dropping an item into us and our service department we have a minimum of a 2 week turnaround for your item. Also, any item you wish to book in with us MUST be done prior to drop-off. We do offer a fast track service if you would like a quicker service at an additional cost of £25.
·         We have fabulous stock lines of laptops, gaming PCs & accessories. If you wish to place an order with us while stocks are easily available we will be happy to help and assist. Our popular custom gaming PCs builds are best ordered as early as possible to avoid disappointment.
We sincerely wish good health for you and your families during these uncertain times. Striving to keep you safe and serving our community.
From us all at Redhouse Computers
Frequently Asked Questions
When will RedHouse Computers reopen fully?
We will be monitoring the situation as it evolves, closely following government and health authority guidelines and will update on any further developments as and when we have them. As always, the health and wellbeing of our customers and staff is our number one priority. We are incredibly grateful for your support.
We will post any updates on our website and social channels please check these to stay informed at all times.
Can I still buy products from you?
Yes, we still have our online website that we will be updating regularly with stock and offers. We can take orders over the phone & online and can be collected at our click and collect point or we have a local delivery option.
Can I still bring my item in for service / repair?
Yes, we still have our service centre that is fully operational. To book in an item with us please call 01375 892885 and speak to a member of our service department who will take you details and payment of £25 for the booking in fee this MUST be done prior to drop-off of your item; if you wish for your item to be fast tracked please let the member of staff aware and we can take the additional £25 for fast track. Our turnaround times are longer than normal due to the current circumstances approx. 2 weeks. Turnaround times do vary so please feel free to ask when booking in for a better idea of timescale.
Serving our community.
Robert, Janice & Scott
Tel: 01375 892885
Email: sales@redhouse-computers.co.uk
Coronavirus
A family business since 1990 owned and run by husband and wife team Robert and Janice Rouse. Janice Rouse is a fully trained medical secretary and over many years has kept high standard of hygiene here at Redhouse. Always making sure staff are using hand sanitizer & correct methods when dealing with service items laptops & PCs.
With the outbreak of the Coronavirus the same procedures are in place here at Redhouse. All staff have been advised on Government guidelines. As a small company there is little close contact with our customers; if you are afraid of the big stores with many people around come to us. Always here to help and assist.
Working from home

We have also launched our new same day delivery service for anyone who is affected from companies who advise staff to work from home. Is your PC or laptop just not up to par for this level of work?
We can supply a new laptop / PC the same day if ordered before 3PM within 10 miles of our store. Please call 01375 892885 with your postcode to see if you are eligible for this brand new service.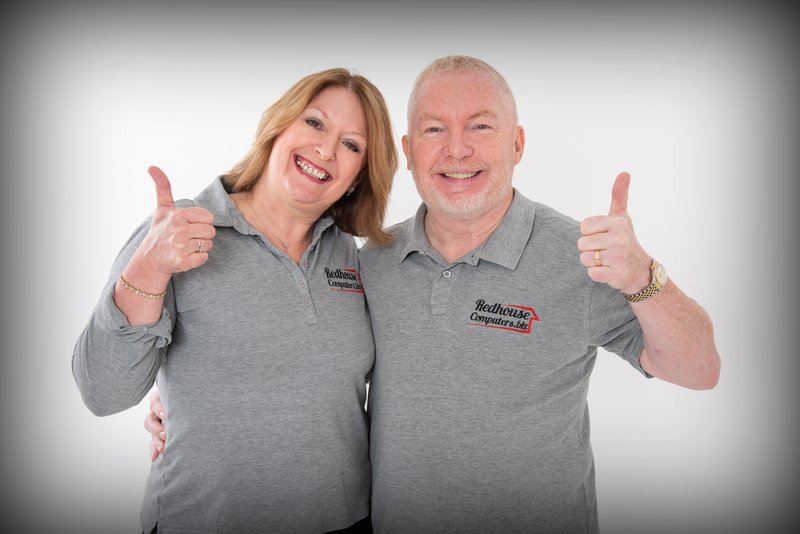 Helpful Sites
Please see useful sites in regard to COVID-19 working from home guidelines & other useful information
https://www.nhs.uk/conditions/coronavirus-covid-19/
https://www.gov.uk/government/publications/covid-19-stay-at-home-guidance/stay-at-home-guidance-for-people-with-confirmed-or-possible-coronavirus-covid-19-infection